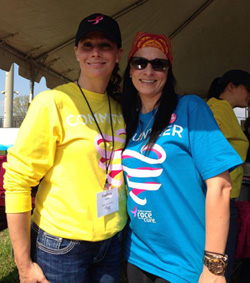 Volunteer
Volunteers play a vital role in the Susan G. Komen Virginia Blue Ridge Race for the Cure®. Their passion and commitment is what makes our Race successful. Today, thanks to more than 100,000 survivors and volunteers/activists, Susan G. Komen® is the world's largest, most progressive grassroots organization fighting breast cancer.
Why volunteer?
It's fun. It's rewarding. And you'll meet some truly incredible people when you volunteer for the Komen Virginia Blue Ridge Race for the Cure. The success of the Race depends heavily on the support we receive from more than a hundred volunteers in the months leading up to the Race and on Race Day.
Who can volunteer?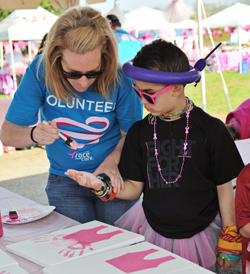 Fun-loving, enthusiastic, hard-working and reliable individuals who are willing to contribute to the success of the Komen Virginia Blue Ridge Race.
When can you volunteer?
There are two ways you can volunteer for the Race:
We are always looking for volunteers to help with pre-Race planning, organization and marketing. If you are interested in helping us pre-Race, we need volunteers to come fold race shirts and stuff packets. Please stop by the Komen office whenever you are free to help! You can come during our business hours and we will have work for you to do! Our office is open Monday-Thursday from 9am-5pm and Friday from 9am-4pm.
It takes hundreds on Race day to provide the best experience to our participants. We will have volunteer registration on this site in March. If you are interested in volunteering on Race day, click here to sign up. All registered volunteers will receive detailed information about where to park, when to arrive, and where to check in. Look for this email a few days before the race.