We Race Because…
One

in

eight

women in the U.S. will be diagnosed with breast cancer in her lifetime.
Because

every minute

, somewhere in the world, someone dies from breast cancer.
And because, breast cancer knows

no boundaries

- be it age, gender, socio-economic status or geographic location.
We continue to Race because at the current rate,

13 million

breast cancer deaths around the world will occur in the next 25 years.
But, when you participate and fundraise for the Race, we fight these statistics together. In 1980, the 5-year relative survival rate for women diagnosed with early stage breast cancer (cancer confined to the breast) was about 74 percent. Today, that number is 99 percent! Komen has played a critical role in every major advance in the fight against breast cancer - transforming how the world talks about and treats this disease and helping to turn millions of breast cancer patients into breast cancer survivors. This progress was made with your continued support and together we can reach our vision of a world without breast cancer.
Local Inspiration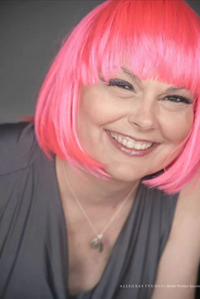 Leecy Fink was one of more than 2,000 people to run across the finish line at the fourth annual Susan G. Komen Virginia Blue Ridge Race for the Cure. Because Fink was in the middle of chemotherapy, she spent the majority of the 5k race in a wheelchair that members of her team traded off pushing. At the end of the race, though, her family and friends, cheering and pumping their fists in the air, got her out of the wheelchair and encouraged her to run across the finish line with them. "I feel like a rock star right now!" Fink explained emotionally after finishing the race. Before the race began, Fink said she felt "filled with boundless joy." That joy was infectious, among her team and among others in the crowd.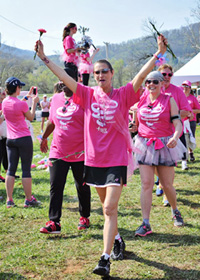 Vivian Lingenfelter was diagnosed with stage 3 breast cancer in 2013. There were friends and relatives who nursed her through recovery, helped Lingenfelter pay some bills, and celebrated with her in January after her final six-hour chemotherapy session. The unemployed single mom said she might not be here at all were it not for the Susan G. Komen Virginia Blue Ridge Affiliate and the mammogram it paid for, which she might otherwise have been unable to afford. Lingenfelter was able to get that covered because of money the local Komen affiliate raised and donated to hospitals in its 31 city/county Blue Ridge region. It's a great cause, one that's worthy of our community's support. Just ask Vivian Lingenfelter. To pay it forward, Vivian participated in the 2014 Race for the Cure to spread awareness and her impactful stories.